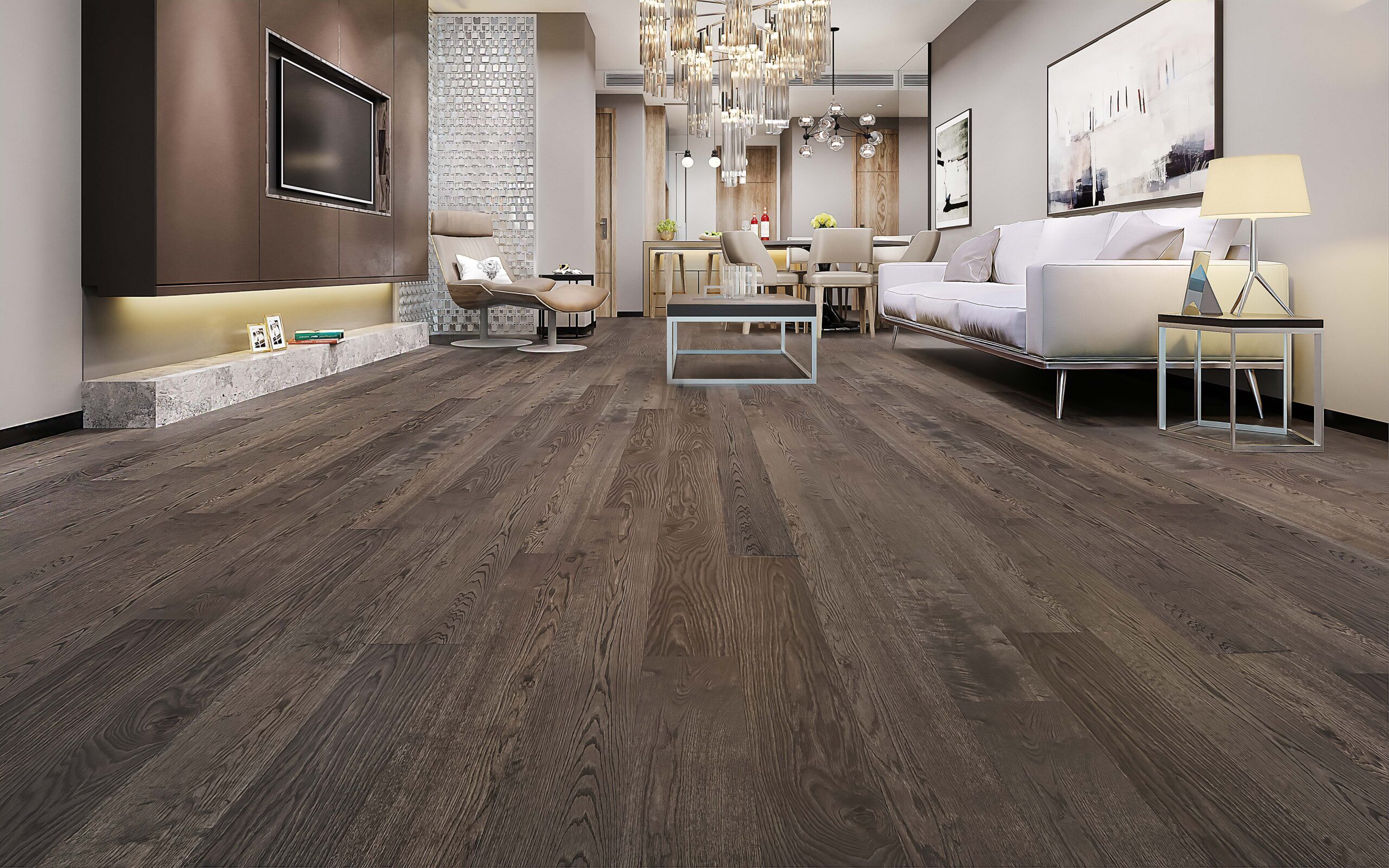 Wood floors are available at a variety of quality and price points, but there are several things that distinguish a mediocre floor from a high end floor. If you want a high quality floor that will look great year after year, you must look at both aesthetics and performance qualities, including manufacturing details. In other words, how the floor looks and how it's made. Read on for what you should look for and ask about when buying your wood floor.

Aesthetics
Your floors are far more than simply the surface you walk on. They are the single largest surface finish besides your walls and certainly the largest impacting finish in any room, and how they look will reflect on every piece of cabinetry, furniture or art in the space. That's why, in luxury flooring, there's so much attention paid to the design. The floor sets the tone for the space, so at Khayeri Flooring we have developed multiple collections of flooring, each with a distinct aesthetic.
Modern & contemporary design
For modern and contemporary spaces, a sleek look is essential. Think of classic Scandinavian design where the natural beauty of the wood shines through, the planks in this line are 8 inches wide and fixed long boards of 7 feet+ and hand selected with minimal to no knots, no bevels at the joints, and they are either sanded smooth or lightly brushed. This was the inspiration for our Memories of Scandinavia Collection.
Opulent & traditional design
For an opulent or classic aesthetic, a more ornate, textured or varied wood is ideal. Think of the flooring you might find in a French chateau or palace. Reclaimed and rustic woods are very popular, as are extra wide at nearly 9 inches and long planks of 6 to 7 feet. There is a vast array of custom natural hand finishes that work for this timeless aesthetic. Recently, we've been seeing designers selecting flooring in this category and pairing it with contemporary furnishings for juxtaposition.
At Khayeri Flooring, we have two collections that cater to a traditional design aesthetic: the Palace Collection and the Chateau Collection. Both are made from white oak and have a natural hand-made finish. The Chateau Collection is inspired by the rich, remarkable floors of the Palace of Versailles itself and lends itself perfectly to elegant patterns like herringbone and the namesake Versailles. In comparison, our Palace Collection consists of hand selected planks with a more consistent, and less knotted formal look.
Performance
Just as there are performance vehicles, there are performance floors. These are the surfaces that maintain a high quality feel, look and durability over time. Most flooring looks just fine when it's in a display or in a showroom, but the true test is how it holds up after a few seasons.
There are numerous factors that go into providing a high-performance floor, from materials to manufacturing to installation. For a floor that stands the test of time, here are the main things to look for.
Raw material
The top layer of the flooring is hardwood. Engineered hardwood floors come in a vast array of woods. At Khayeri, we exclusively use old-growth French hardwood that adheres to Europe's highest forestry certifications of PEFC or FSC. This is for two important reasons: First, these trees are at the ends of their life cycles so there's less environmental impact. Second, due to the mature age of the wood (usually between 150 to 180 years), it is able to better withstand fluctuations in temperature and moisture and its had over a century of more seasons compared to a standard North American species.
Drying
The drying process and time play a major role in how stable your flooring is. We dry our wood over a full month. The alternative is flash drying over as few as two or three days. Rushing (pressure cooking) the drying process adds a lot of stress to the wood and will become evident in the years to come as the floors acclimate to your home and our varied climate.
Backing material
The other layers of your floor also impact performance. Inexpensive products use pressed scrap soft woods similar to construction plywood. This material is significantly less stable than Khayeri's cross-ply Balitc Marine Birch Support, which reduces expansion and contraction of floors by upto 90%. As a quality cross-ply support is what makes a true "Engineered" floor as it counteracts the stress movement of the hardwood top layer.
Manufacturing quality
The manufacturing of flooring is directly linked to how it looks, sounds and feels. It's also the different between a floor that is like new 10 years from now, and one that has warped and is creaking underfoot. At Khayeri, we have invested a lot of time and energy in high quality manufacturing. We set our machines and processes to produce 100% consistency. We also use precision diamond milling to achieve a square-edge no-bevel fit. This means the floor, when installed, is a seamless flat surface. This is what you need for dimensional stability, which dampens creaking from the subfloor. If the manufacturer is focused on quantity and low price over quality, it's a sign to stay away.
Installation
The last step in the process is installation. There are three methods for installing a floor: float, nail, or glue-down. It's common to float/click floors when using cheaper materials because it helps to accommodate for the expansion and contraction, but it's a temporary fix. Over time, you'll still find that waves and pockets appearing. Nail down is another option, but over years the nails are likely loosen leading to those awful creeks.
At Khayeri, we recommend the full spread glue-down method. When a floor is properly glued down, it moves in concert with the subfloors. To maximize the longevity of your installation, a premium adhesive is essential. We recommend Khayeri Eco Bond adhesive developed by us in the Netherlands which is VOC and without off gassing and most importantly has a built-in acoustic qualities that equates a 6mm cork sheets which will help in eliminating sound transfer between your floor levels.
Luxury flooring is more than using high quality materials. At Khayeri, we approach flooring as "purpose-designed", meaning that we put as much thought into the design of the planks as attention to high performance. Luxury flooring includes the design, precision, quality control, and expertise in manufacturing, as well as the quality of and ethical sourcing of the materials. It's ensuring that no corners are cut so that the floor will look just as wonderful in 15 years as it does when it's brand new.